Sandra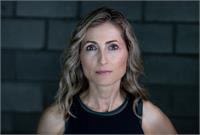 BA, B.ED, PTS, NWS Certified Personal Trainer Specialist (PTS), Certified Nutrition and Wellness Specialist (NWS)
"You cannot control the world outside but you can choose what you bring into yourself. Begin by finding one item of health and wellness every day until it becomes a habit"
A Pro-trainer and Nutrition coach at Integrity Fitness, Sandra has worked effortlessly on dedicating her time to help people live a healthy lifestyle. Working as a teacher and mentor, Sandra has a desire to teach and make a difference in people's lives. Her passion and dedication to people is evident in her success at home, school and with her clients. The biggest contribution as a master trainer is to make a great trainer even better. For years, Sandra has gained the respect of trainers in all fields of fitness. She has inspired and taught great trainers to be better leaders and role models. Her skills can't be certified or taught. They are hard earned and the result of experience, ready to be passed on to those who take the time to learn from them. More importantly, each client also motivates to better herself. Being able to help people achieve their goals whatever they may be and thriving off of their energy and enthusiasm is what Sandra values most about being a trainer.
Sandra instructs the following:
T.G.I.M. METCON is designed to stimulate every muscle in your body, including your heart? Feel lethargic? This is the workout for you!After your five minute warm-up, this workout is going to pick you up and charge your energy system for the next 30 minutes. This science proven workout will be 100% satisfying and help you towards your goals. Big muscle groups, big effort, big results!




Do you want to feel stronger when performing your daily activities? Are you looking to build total body strength? This is a workout that will charge your entire body.Functional training is an effective workout that is designed to help your body adapt to different types of lifestyle movements and reduce the risk of injury. Our circuits will put you through a series of challenging exercises that will help you improve your coordination, balance, endurance and your overall ability to perform. Ramp up your metabolism and maximize your fat loss using a series of compound lifting and cardio moves that will attack your energy systems and leave you feeling completely satisfied.