Claudia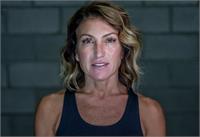 BSc, PTS Certified Personal Trainer, Pilates Resist-A-Ball certified, SMRT-Core certified
Physical activity has always been an integral part of Claudia's life. During her school years, Claudia excelled a member of the track and cross-country running team as well as the volleyball team. As the years passed she continued to keep physically active and followed all the fitness trends from step classes to aquafit while she was pregnant. It wasn't until after having her two children and attending Integrity Fitness bootcamp classes that she realized her new found passion in life – fitness.
Over 6 years ago, Claudia decided to pursue her passion and received her certification in personal training. Since that time she has been employed as a personal trainer and bootcamp coach at Integrity Fitness. She continues to expand her fitness knowledge by taking courses that allow her to further assist her clients in reaching their fitness goals. As a busy mom and fitness enthusiast her goal is to inspire and motivate clients to achieve their goals and live the healthiest life possible.
Claudia instructs the following:
The day of stimulating all your muscles. We will use this day to help with recovery, increase your energy and eat the body fat. Conditioning your heart to make it stronger is vital for good health and reduced body fat. Exercises that push your heart and use loads of calories have multiple benefits. This workout is designed to do just that. Your rest? We only slow you down to focus on your core training.




Do you want to sculpt your buns and thighs? Are you looking for more definition in your arms to help get you beach body ready? Not a second is wasted in this specialized workout.We have taken our signature workout and gave you more. Now not only are you going to get seriously toned thighs and buns but you will get defined beach ready arms. That's the concept behind "Buns and Guns", designed to get you firm and lean from head to toe! Feel your muscles get tighter as your trainer focuses on lower body toning exercises and then shifts gears and works your arms to perfection.