Noemia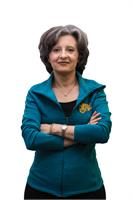 Office Manager
When many think of a fitness center employee, they picture the athletic trainers or nutritionists/dieticians. However, an important part in any fitness center is the Administrative Staff.
In her role as Office Manager, she is responsible for the smooth operation of the day-to-day business of the company. She works closely with the owner, Paul to ensure that all departments function efficiently by utilizing her strong organizational skills, and her ability to work well with others. She tries to provide a structured environment to all those who she associates with by motivating and encouraging everyone to work as a team and take pride in their work.
Customer service is a top priority for her and she takes personal pride in providing the clients of Integrity Fitness with the world class service they have come to expect over the years.
Noemia is currently not instructing any classes.